Archive for the 'MIDI' Category
Arcattack was part of the entertainment Friday May 9th,  at the Liberty Science Center Genius Gala 3.0.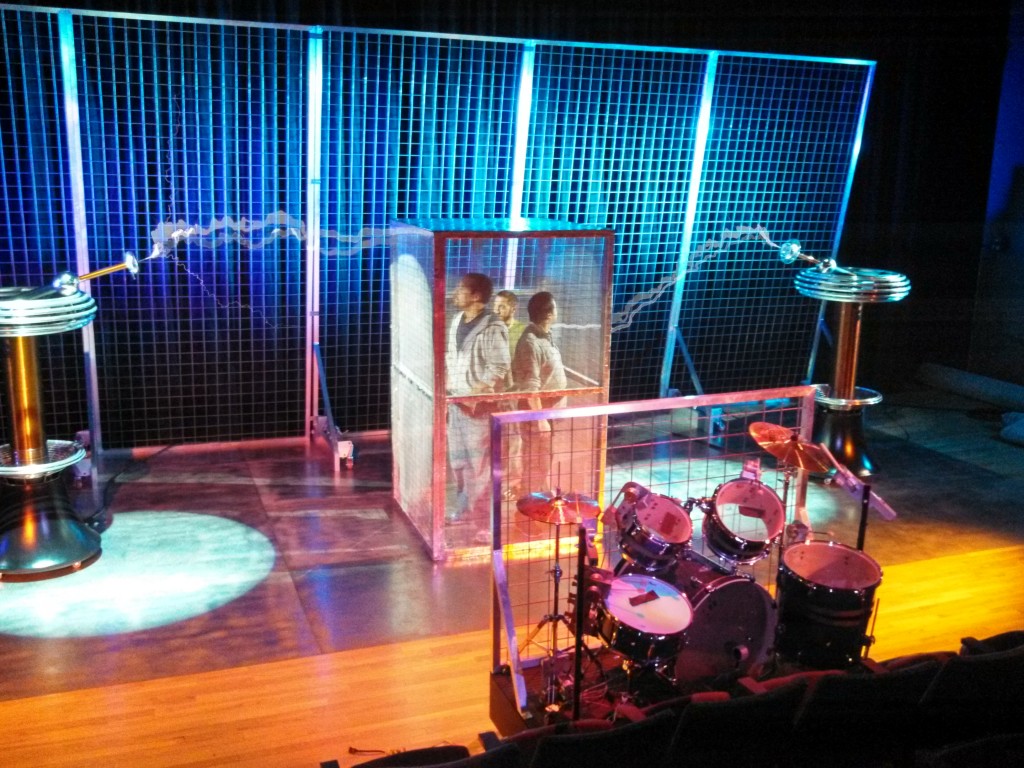 "Liberty Science 
Center (LSC
.org) is a 300,000-square-foot learning center located in Liberty State Park on the Jersey City bank of the Hudson near the Statue of Liberty. Dedicated to bringing the excitement of science to people of all ages, Liberty Science Center houses 12 museum exhibition halls, a live animal collection with 110 species, giant aquariums, a 3D theater, the nation's largest IMAX Dome Theater, live simulcast surgeries, tornado and hurricane-force wind simulators, K-12 classrooms and labs, and teacher-development programs. More than half a million students, teachers, and parents visit the Science Center each year, and tens of thousands more participate in the Center's offsite and online programs. LSC is the most visited museum in New Jersey and the largest interactive science center in the NYC-NJ metropolitan area."  from the LSC website
David Blaine donated two coils to LSC from his Electrified event in New York.  Those coils were a bit too big for the LSC theater so Arcattack was commissioned to build a more compact set of coils. I was commissioned separately to build a new Percussibot drum robot for the installation. This is the first permanent installation for a Percussibot!
Sam McFadden did a great job on the coil design.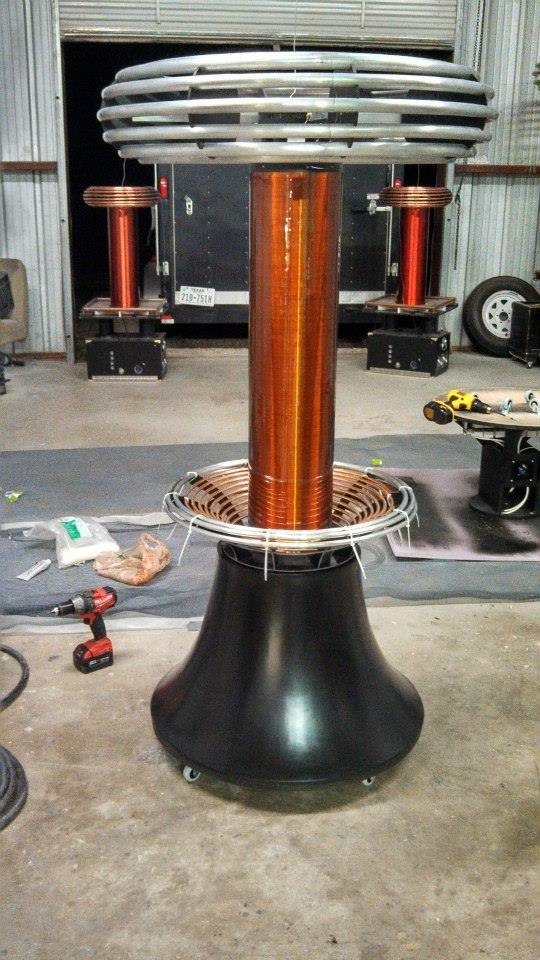 Yes Sam, that is one sexy Tesla Coil!
I'll post a video as soon as I get access to one.
You may know that Austins own ArcAttack was responsible for the massive Tesla coil set-up for David Blaine's latest endurance event at Pier 54 in New York. Here is Arcattack's Facebook page.
Look here for some behind the scenes videos.
It was a privilege to work on this project, and although a lot had to be done in a short time, it was very rewarding to see it through a successful conclusion.  The coil electronics proved to be solid.  Kudos to Joe DiPrima and Steve Ward for an excellent design and Christian Miller for the show controller.  Great work by Sam Mcfadden in the design and the build.
Heres a shot of the crew after David left in an ambulance. (Pat Sullivan didn't make it in the picture though he was there.)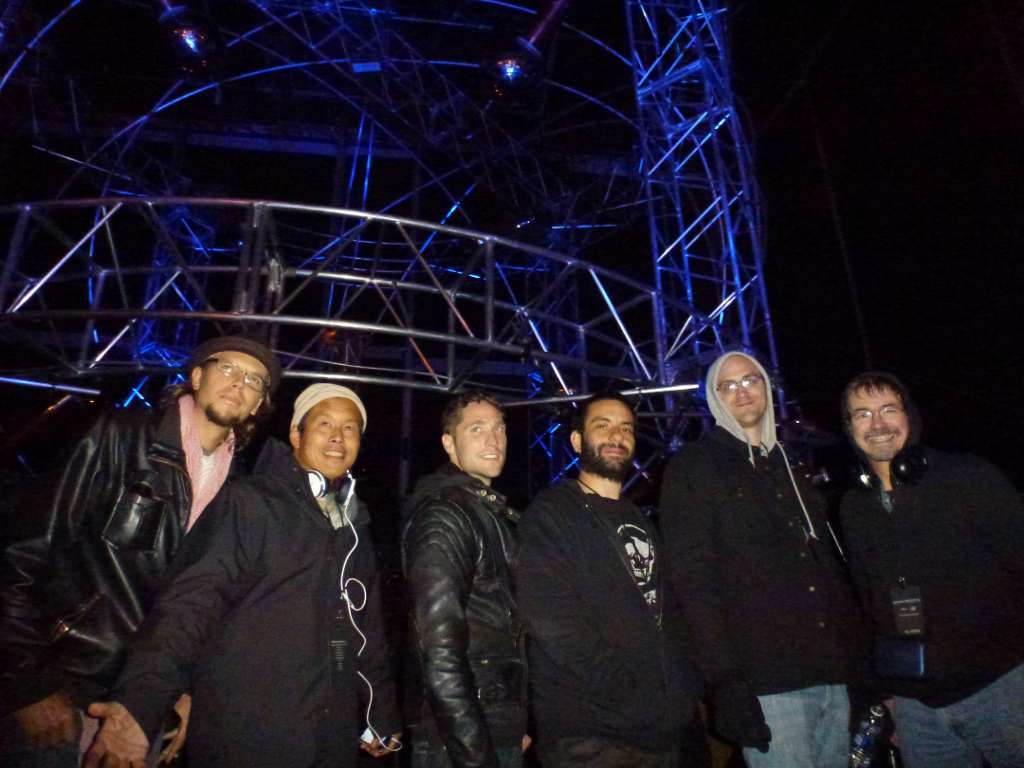 From Left to right, Tyler Hanson, Stephen Chao (David's Producer), Adron Lucas, Joe DiPrima, Steve Ward,  Craig Newswanger (me).  Other team members: John DiPrima, Pat Sullivan, Sam Mcfadden and Christian Miller
I have received a number of inquiries about the availability of a drum controller kit. I am working on it. The kit will include a midi decoder board and 1, 2 or 3 FET driver boards depending on the number of output channels you need. Each FET driver board has 8 outputs.
This photo shows the MIDI decoder, one FET driver board,  LCD and a set of menu buttons

The kit will include the assembled PC boards, LCD display with cable, three push buttons, ribbon cables and a "wall wart" 12 volt power supply(US only).
Documentation will include schematics, parts list with sources, instructions, suggestions about the use of the kit and a description of how it works. Source code is not included but hex files for programming your own PIC's will be provided upon request. You are free to write your own code of course. The midi board can be programmed through an ICD connector on the board. Each channel on the FET boards use a 12F683 to generate independent PWM signals. These PIC's need to be programmed off the board.
All IC's are DIP socketed.
I'll be selling assembled and tested boards to avoid issues with assembly problems.
The prices will be as follows:
Midi Decoder board $275
8 Channel FET board $325
(The prices do not include shipping.)
All spares can be ordered through Digikey.
I am not taking orders yet.  I'll be ready to accept orders in a couple of weeks.

Please leave a comment or email me  if you would be interested in purchasing a kit.
The following is not a link. You have to type it in.