Archive for March, 2009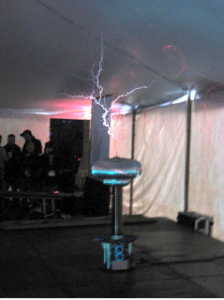 I joined Arcattack! at the SXSW Interactive, Dorkbot event last night. The event was well attended, considering the cool weather.
The venue wasn't large enough for Arcattack's big coils so Joe and Oliver dusted off two older coils. A few glitches came up which the guys tried to remedy. One coil would not cooperate so they had to run with one coil.  Fortunately they have some new software that allows them to run multiple notes on one coil.  The crowd love it, as usual, big cheers and lots of cel phone cameras were "clicking".
Arcattack! has been using my robotic drum kit at most shows now.  The controller has been fairly reliable since installing a new power transformer and a good set of fuses.  Next task for the kit is solenoid mounts that can be attached to any drum set.  I'd love to make two new kits, one that's really road worthy and one that is way over the top with dual kick drums and a nice set of toms and cymbals. (I am looking for sponsors for the next round of development)
If you want to experience the full effect of Arcattack's giant solid state coils, don't miss the Texas Rock Fest this coming Wednesday, Thursday and Friday at 7th and Trinity in Austin.  (Mar 18-20 8:45 pm to 2:00 am) Check out the Arcattack site for consise details.
The photo is from gserafini on flickr. My iphone pics wern't worth posting.