Lots of water under the bridge since last posting, sorry for the delay.
Sally and I were well absorbed in two events. The East Austin Studio Tour took place November 14th – 27th.  Sally was also preparing for a show at the Blue Star Contemporary Art Center in San Antonio.
Our studio was open both weekends for the tour. (ours was number 59) It was a lot of work to get ready.  I was working on new photos from our California trip and I built a new set of actuators for a new drum set to join the one I made for Arcattack. I rented another drum kit and John DiPrima programmed some songs. I also helped Sally with framing her work.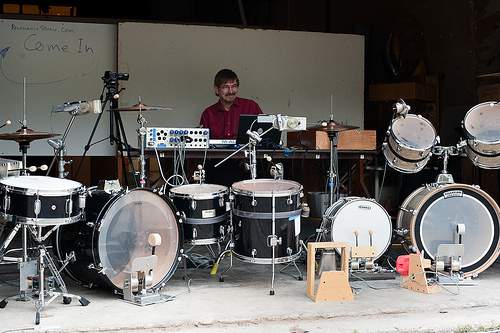 Photo from Don's Photo stream:
In between the two weekends of the E.A.S.T. Arcattack played a gig at UT in front of the Tower. At least 1500 students showed up. We had the two drum sets in front of the stage. I say we but I didn't help set-up but I helped pack it up at the end.
Search on YouTube for "Arcattack UT" and you can find some video of the event.
I've added two new videos to the Gallery so take a look.  These were the sequences played during EAST.
Sally's show in San Antonio is up through February 13.  You can see more about the show here.
Cheers!