Hello all
It's been ages since I posted anything. This is mostly because I was not able to get much time in the shop over the last few months.  I'll try to keep up with the blog a bit better.
I built this stepper motor driven drawing machine based on an idea from a toy from the 1920's. The Toy is called the "HOOT-NANNY"   Yes, really, that's it's name.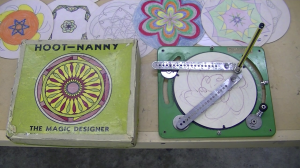 I scaled it up to create complex guilloché patterns on paper.
Guilloché is the word used to describe intricate repetitive patterns often used in security printing and fine metal working. The machine uses three micro-step motors that are controlled by a program written in PureData. Careful control of the motor speed ratios and positioning of the pen arms results in complex patterns. Some of the best patterns are the result of setting the speeds very near but not quite on specific harmonic relationships. The pen traces a Lissajous curve and the paper rotates beneath the pen, thus tracing out the complex pattern.
The patterns take from 10 minutes to and hour to create.
Puredata is not really intended for motion control but I found it really easy to manipulate the ascii to create the strings for the motors.  If I tried to do this in C or Python It would taken much longer to program.  In puredata sliders and buttons are a snap.  Opening two serial ports turned out to be easy as well.
Special thanks to Olympus controls in Austin.