About
Resonance Studio is the personal studio of Sally Weber and Craig Newswanger, located in Austin Texas.
Craig Newswanger is a holographer, inventor and a maker.
Craig's wife Sally is an artist whose primary medium is light itself. See her work here.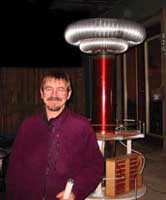 The Resonance Studio Workshop is where Craig builds things.
Craig's varied interests include: optics, electronics, photography, Holography, Astronomy, Computer Music, Computer Graphics, Mechanics and the history of science.  He has dreamed of building a workshop where he could build stuff like telescopes, Tesla coils, Kites and anything else he can think of.  He really likes to build things and make them work!
Craig's father, Don, was an electrical engineer who worked in public safety for the city of Los Angeles for his entire career. Don, captured Craig's attention early with his many hobbies which included photography, amatuer radio, woodworking and Electronics.  Craig and his father experimented with digital electronics with parts from surplus computer boards.  Craig built his first computer from a kit in 1975. Craig was an early member(#478) of the SCCS (Southern California Computer Society) He has built his career based on making things work.
Craig was a photographer in the Army then his work history continued in Laser light shows for Laser Images, Inc, He was an Imagineer at Disney then a holographer in a small start-up.  He has continued in holography to this day. He now works in Austin Texas for Zebra Imaging, Inc.
This blog will hopefully provide a good way to share his projects, ideas and experience with others.
Thanks for visiting!

<—<  Sorry this is not a link. You have to type!